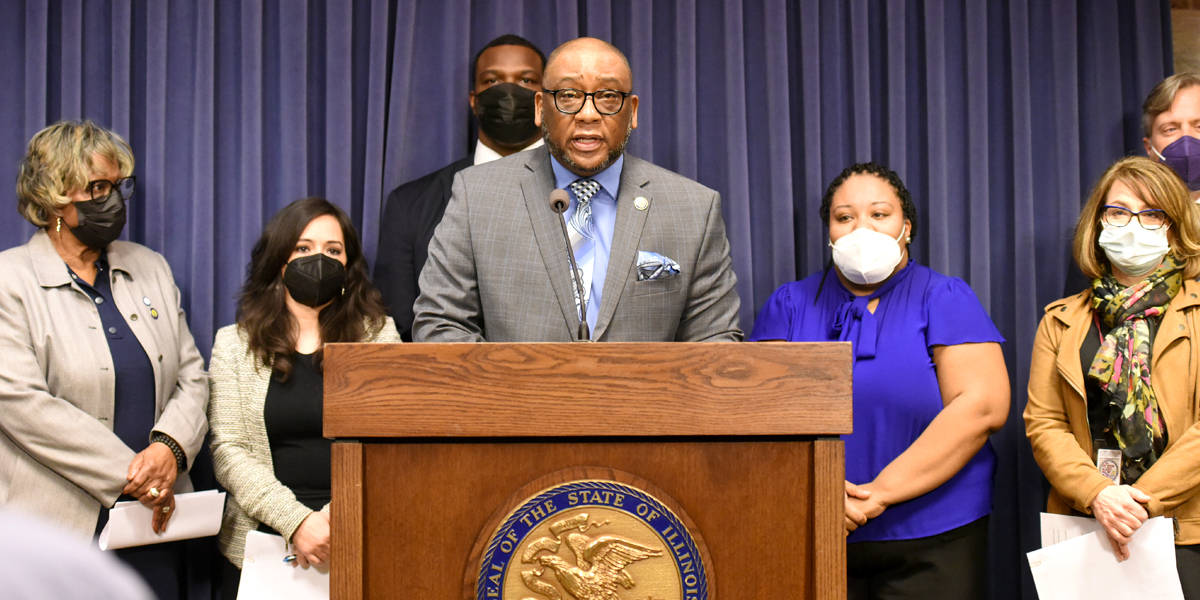 SPRINGFIELD – As school districts around the state continue struggling to fill teaching positions, Senate Democrats hosted a press conference in Springfield on Thursday announcing a number of legislative measures that would help address the void.
"Illinois is facing an overall teaching shortage and an immediate staffing shortage in schools," State Senator Meg Loughran Cappel (D-Shorewood) said. "Over the past two years, we've seen school districts take an all-hands-on-deck approach and our schools can no longer operate under that system. We need to take steps toward alleviating the teacher shortage through legislative action."
According to the Illinois State Board of Education, there are more than 4,000 unfilled positions in schools. In an attempt to address the vacancies and increase the substitute teacher pool, Loughran Cappel introduced a plan – Senate Bill 3915 – that would waive the application fee for short-term substitute teaching licensees when the governor has declared a disaster due to a public health emergency.
"Staffing is one of the most important, if not the most important, challenges that our schools are facing during this awful pandemic," Loughran Cappel said. "We have a responsibility to do all we can to ensure our students have access to teachers, and it's my goal to get them there."
Additionally, State Senator Cristina Pacione-Zayas (D-Chicago) introduced legislation – Senate Bill 3988 – to lower the age requirement for teacher assistants from 19 to 18 for those who work in pre-K to eighth grade classrooms.
"Not only will this measure give new graduates interested in careers in education an opportunity to do so even quicker, it will also help address the need for teachers and teacher assistants," Pacione-Zayas said. "The ongoing teacher shortage is hurting students, especially those who might need individualized support, so allowing more interested candidates to apply is more important than ever."
State Senator Doris Turner (D-Springfield) also brought forth legislation – Senate Bill 3907 – to allow short-term substitute teachers to teach up to 15 consecutive days instead of five for any one licensed teacher under contract in a school district. Additionally, if a teacher is absent for longer than six days, a school district would be able to hire a person holding a short-term teaching license if it is during a period of time in which the governor has declared a public health emergency.
"The past couple of years has taken a great toll on our teachers and students," Turner said. "I am confident that Senate Bill 3907 will help keep kids in the classroom and provide an extra level of support for our school districts."
Lastly, State Senator Robert Martwick (D-Chicago) introduced a measure to address Illinois' ever-growing teacher shortage by bringing back retired educators.
Senate Bill 3465 would allow retired Chicago Public School teachers to return to work without it affecting their pensions. Schools would be able to submit documentation with their regional superintendent to request help from retired educators in a "subject shortage area".
"Although our students have returned to in-person learning, we will not make up for pandemic learning loss without teachers in classrooms to guide and support them," Martwick said. "I am pleased that we are one step closer to removing the barriers that prevent retired professional educators from returning to schools during this epic shortage."
Senators Loughran Cappel, Martwick, Turner, Pacione-Zayas, Belt, Harris and Joyce will continue to work on these initiatives during the legislative spring session to be considered by the Illinois Senate.
For a list of all bills in the Senate Democrats' teacher shortage package, visit IllinoisSenateDemocrats.com/TeacherShortage.