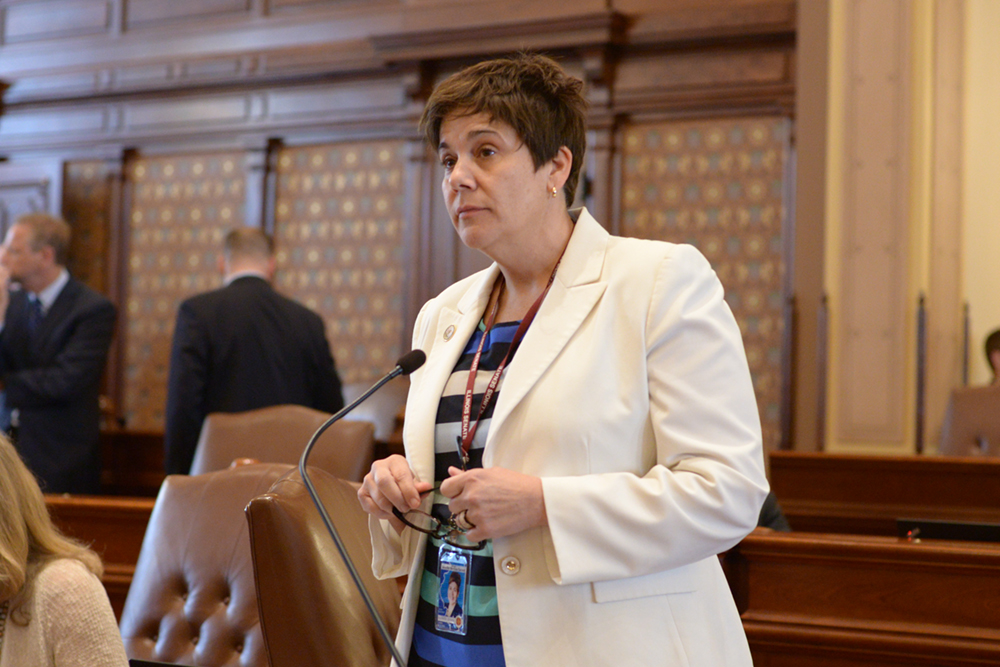 PLAINFIELD – State Senator Jennifer Bertino-Tarrant joined her colleagues on both side of the aisle to support significant business initiatives that will encourage economic development in Illinois.
Bertino-Tarrant (D-Shorewood) supported vital bipartisan measures that create tax credits, new jobs and apprenticeship programs which will stimulate the state's economy.
"Illinois businesses drive our economy," Bertino-Tarrant said. "These job-creating programs were formed in collaboration with businesses across Illinois to encourage growth and stability that will invite companies to make our community their home."
Bertino-Tarrant lent her support to the adoption of the Blue Collar Jobs Act, which will incentivize large-scale construction projects and jobs investment by issuing tax credits to companies that build, renovate or expand facilities in Illinois.
Another measure, the Manufacturers Purchase Credit, extends the tax credit to include certain supplies and consumables used in manufacturing facilities. The credit was left to expire two years ago during the budget impasse but Bertino-Tarrant helped renew the state's commitment to this vital program.
Franchise business are an important part of the state's economy. Taking into account the indirect impact of franchised businesses, they support more than 13.2 million jobs, $1.6 trillion in economic output for the U.S. economy and 5.8 percent of the country's GDP.
To help encourage more residents to choose to open additional franchises in Illinois, starting in 2020, the corporate franchise tax will begin to be phased out and will be eliminated by 2024.
"Business owners should not be penalized for starting new businesses in Illinois," Bertino-Tarrant said. "Taxing new franchises sends the wrong message. Eliminating this tax program will help promote a business-friendly culture in our state."
The major bipartisan infrastructure program that was approved by the Illinois General Assembly will provide nearly $45 billion in direct investment in the state, which will include funding to repair and expand roads, highways and bridges as well as construction projects for schools, public universities, sewer and water systems and state facilities.
Bertino-Tarrant believes it is imperative that the state have the work force within communities across Illinois to meet the workforce needs of these crucial infrastructure improvements.
The budget supported by Bertino-Tarrant provides the state's community colleges with $20 million in new funding to invest in skills training and workforce development programing. These programs will be filtered through the Illinois Community College Board with the goal of supporting efforts to provide appropriate training to skilled professions experiencing workforce shortages to ensure Illinois' employers are hiring in-state workers.
"These innovative programs will help put local residents to work," Bertino-Tarrant said. "It is crucial that the state strive to adopt policies that foster economic growth and the creation of small businesses throughout Illinois. I pledge to continue to work toward business friendly policies that will grow our economy and put people back to work."