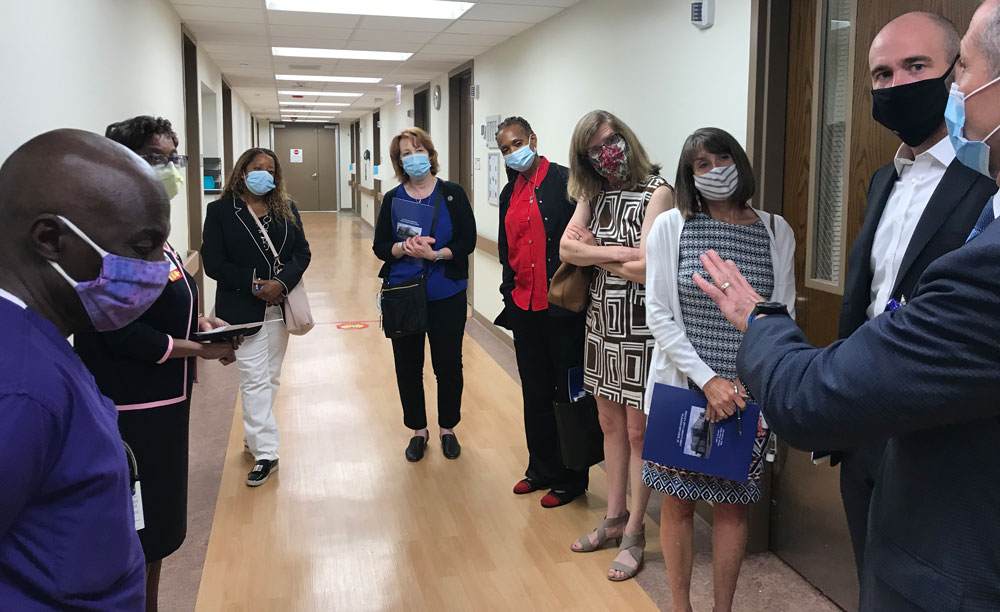 CHICAGO – State Senator Ann Gillespie (D-Arlington Heights) welcomed legislators and staff to tour two safety-net hospitals on Tuesday. Attendees included members of the bipartisan Legislative Medicaid Working Group and Senate leadership.
"Our working group and Senate leaders were able to see first-hand the important role of safety-net hospitals and the work they do for underserved communities," Gillespie said. "The patients served by safety-net hospitals are largely uninsured or are covered by Medicaid or Medicare; as a result, safety-net hospitals often look beyond traditional health care to addressing social determinants of care to better serve their communities."
The group toured St. Bernard Hospital and St. Mary and Elizabeth's Hospital in Chicago. Representatives from eight other safety-net hospitals joined the group to answer questions on the essential services they provide. Safety-net hospitals serve low-income communities where a majority of patients receive coverage from Medicaid. A study by a consumer advocacy group found that an additional 5.4 million laid-off workers became uninsured this year, making safety-net hospitals more vital than ever.
"Communities served by safety-net hospitals lack not just access to quality health care, but also resources such as food and housing," State Senator Julie Morrison (D-Deerfield) said. "This tour highlighted those needs and gave our group a better perspective into the services that safety-net hospitals bring to the areas they serve."
During the special session lawmakers passed the Hospital and Health Care Transformation Program. The $150 million program will fund individual projects to improve health equity and address systemic health disparities across Illinois.