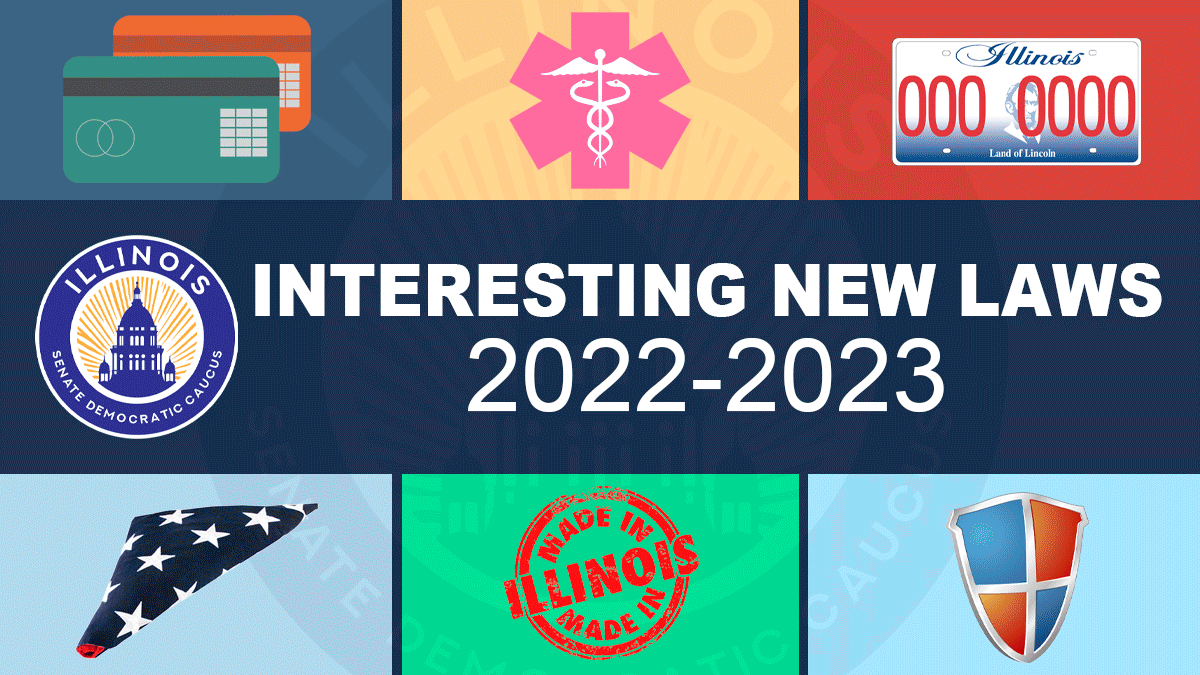 Nearly 200 new laws take effect Jan. 1, 2023
SPRINGFIELD – As the new year starts, a number of new laws take effect. Nearly 200 laws will officially be on the books Jan. 1 – from one that bans latex gloves during food preparation, to another that reduces vehicle registration fees for seniors.
The Senate Democratic Caucus outlined 10 of the most interesting laws that will affect Illinoisans in all corners of the state. Those include:
SB 3120: Allows women who have a miscarriage, other diagnosis or event that impacts pregnancy or fertility, or death of a family member to take 10 days of unpaid leave.
SB 3459: Requires next of kin to any Illinois resident who dies while on State Active Duty or Federal Active Duty, to be presented the Illinois state flag.
SB 3609: Reduces the vehicle registration fees for cars and small trucks if it was manufactured in Illinois.
SB 3616: Changes the Illinois Human Rights Act to include traits historically associated with race, including hair texture and protective hairstyles such as braids, locks, and twists, to combat hair discrimination in the workplace.
SB 3667: Provides that a petition for a protective order may be filed at any time, in-person, by email, or online, and that a county with a population above 250,000 must offer the option of a remote hearing.
SB 3932: Requires a coroner or medical examiner with custody of human remains that are not identified within 72 hours of discovery to notify the Federal Bureau of Investigation.
HB 209: Bans latex gloves for the use of handling and preparing food, as well as for EMA personnel.
HB 3772: Provides people whose cars were stolen not be liable for violations, fees, fines or penalties when caught on red light cameras or speed cameras.
HB 4271: Requires medically necessary breast reduction surgery to be covered by state-regulated private insurance.
HB 5304: Reduces the vehicle registration fee for senior citizens from $24 to $10.
Dozens of other laws will also take effect Jan. 1, 2023. A full list can be found at www.illinoissenatedemocrats.com/2023NewLaws.