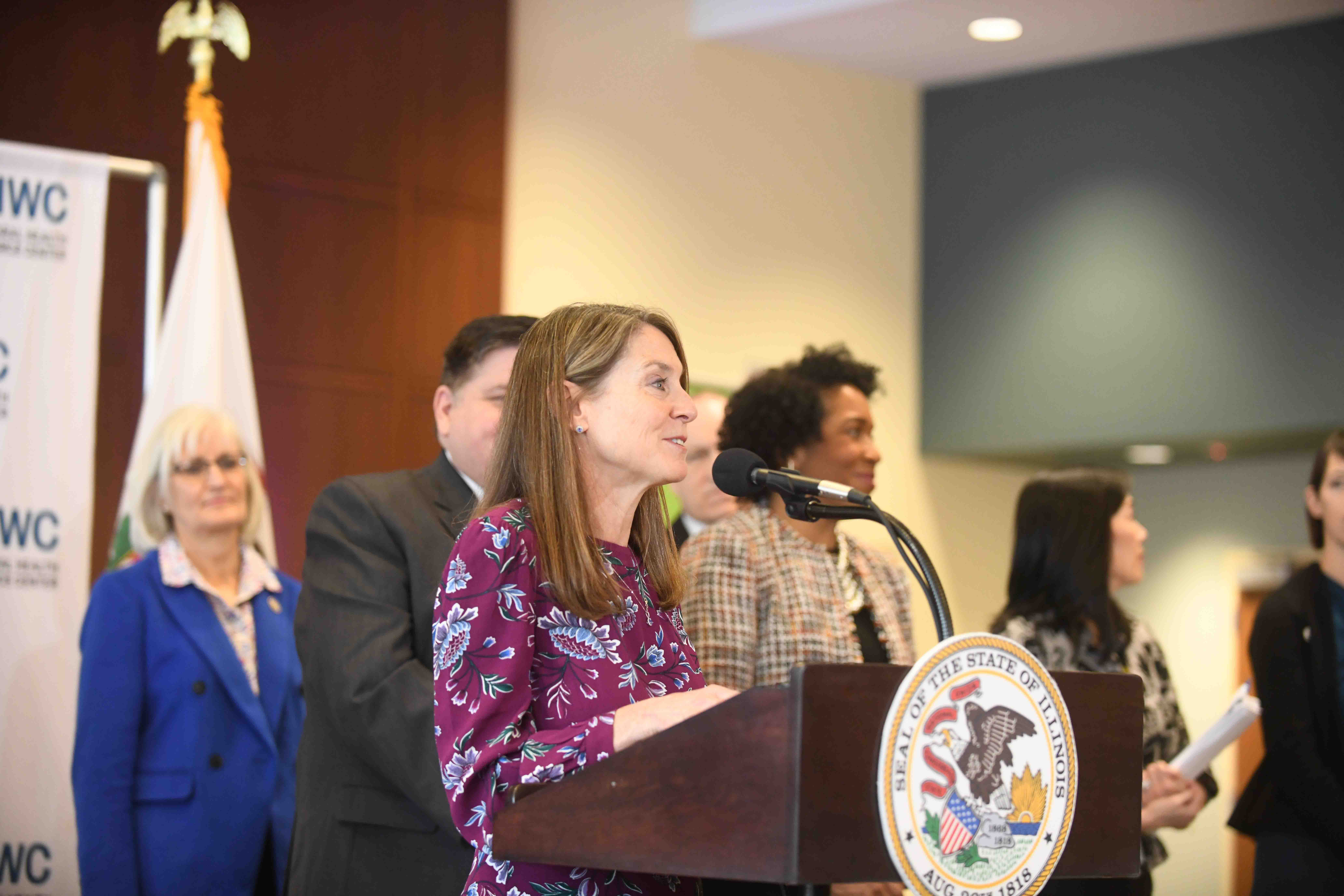 SPRINGFIELD – To help the state tackle the ongoing behavioral health workforce shortage, a number of Illinois Senate Democrats announced the launch of a new center to help increase capacity to recruit, educate and retain professionals.
"As the Chair of the Behavioral and Mental Health Committee in the Senate, I understand the incredible input behavioral health specialists have on improving the mental health and well-being of so many Illinoisans," said State Senator Laura Fine (D-Glenview). "The BHWEC will be a tremendous support to individuals working towards a career in behavioral and mental health. This will, in turn, address the needs of residents in our state. I look forward to working with the BHWEC and other state organizations to support behavioral health care providers and increase our mental health workforce."
At a press conference Wednesday, the Senators – alongside a number of other industry leaders – announced the creation of a new center that will combat critical shortages in the workforce by addressing barriers to recruitment and training, collecting data on behavioral health needs, increasing diversity in the workforce, and expanding the capacity of health care providers to meet behavioral health needs.
The center will coordinate with key state agencies involved in behavioral health, workforce development and higher education in order to leverage disparate resources from health care, workforce and economic development programs across the state.
"For far too long, people with behavioral and mental health struggles have been left without proper care – in large part because of the ongoing workforce shortage," said State Senator Mary Edly-Allen (D-Libertyville). "Behavioral and mental health care must be treated as all other forms of health care. Today, we are making an important step toward providing people in all corners of the state the treatment they deserve."
Southern Illinois University School of Medicine will serve as the primary administrative hub in Springfield, providing coordination and support for building the behavioral health workforce pipeline and increasing entry into the field. The UIC Jane Addams College of Social Work will serve as the secondary hub, supporting specific data collection and training initiatives. Public and independent universities, as well as community colleges in 10 regions, will be invited to participate as partners to increase the statewide impact.
"Everyone deserves equal access to behavioral and mental health care services. I'm pleased to hear that Behavioral Health Education Centers are being offered in partnership with the Dept. of Human Services, the Illinois Board of Higher Education, and key agencies to collaboratively bring more mental health workers to communities that badly need them," said State Senator Mike Simmons (D-Chicago). "This initiative will help grow the number of behavioral health emergency workers and provide people in our community with the support they need and deserve."
The creation of the center is a milestone in a long-term plan to address the behavioral health workforce emergency. State lawmakers sounded an alarm about the staffing shortages in a unanimous 2018 resolution. In 2019, a Behavioral Health Workforce Education Center Task Force issued a final report recommending the creation of a hub-and-spoke center to address unmet mental and behavioral health needs.
"We have taken strides to increase access to behavioral and mental health services," said State Senator Doris Turner (D-Springfield). "Prioritizing behavioral health together with workforce development will continue the hard work we've done and lead us toward the common goal of adequately and effectively addressing the behavioral health workforce emergency."
###