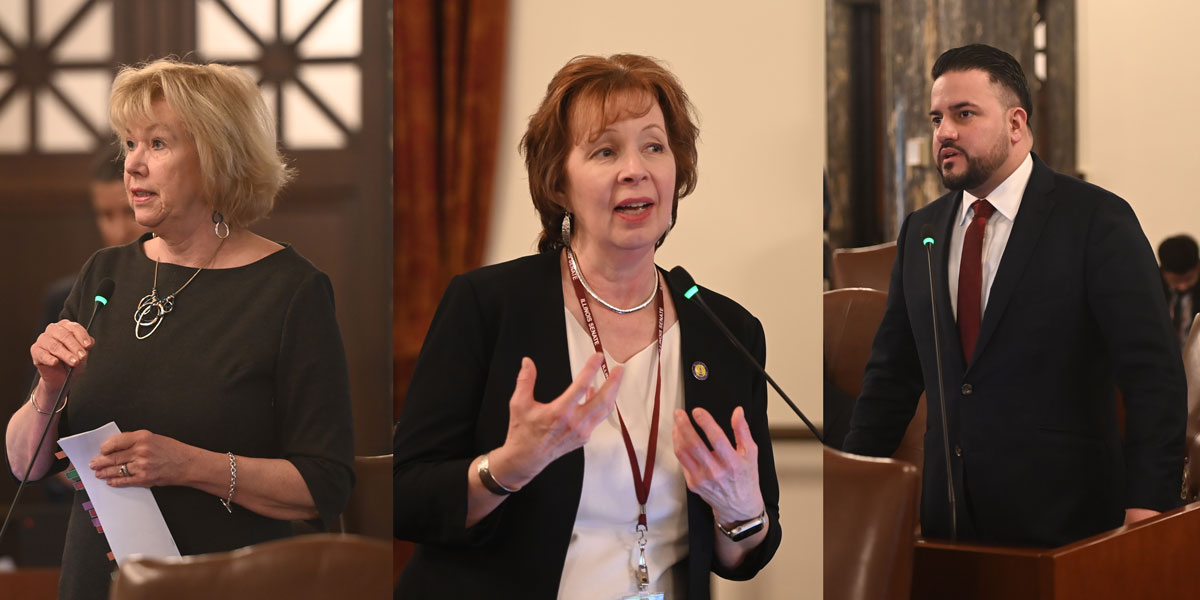 CHICAGO – State Senators Julie Morrison, Omar Aquino and Ann Gillespie joined the Department of Human Services and the Department of Commerce and Economic Opportunity on Friday to announce awards totaling $14 million in Rebuild Illinois funding that will provide critical safety and accessibility improvements to 70 social service providers across 24 counties.
Awarded under the first-ever competitive Human Services Capital Investment Grant Program, the funds will help nonprofit human services providers address physical construction and accessibility needs. The program was designed to prioritize disproportionately impacted areas, the expansion of human services and to address fire prevention and mitigation needs, such as the installation of fire sprinkler systems.
"For far too long, people with developmental disabilities — from children to adults — were not adequately supported," said State Senator Julie Morrison (D-Lake Forest). "Today we take a leap toward positive change that will make Illinois a more accessible and inclusive place for generations to come."
"By investing in human services providers in the most impacted areas in Illinois, we are demonstrating as a state that we value the children and families who rely on these vital programs," said State Senator Omar Aquino (D-Chicago). "Health and social equity begins with making sure our most relied-on service providers can serve our communities in safe, secure and accessible facilities."
Nonprofits are accustomed to vying for operational and program funding from the state but have not previously had an opportunity to receive capital construction funds. This first-of-its-kind "small capital" initiative, administered by IDHS and DCEO, awarded organizations in 24 counties $50,000-$250,000 through the Rebuild Illinois capital program.
"This investment is a significant step forward in our ongoing efforts to ensure families have access to safe and high-quality disability services, youth programs and substance use treatment," said State Senator Ann Gillespie (D-Arlington Heights). "By supporting providers in disproportionately impacted areas in addressing critical construction and accessibility needs, we are demonstrating our commitment to promoting health and social equity for all residents of Illinois."
The $14 million in funding will address much-needed capital improvements for eligible nonprofit human services providers in Illinois. Each awardee has worked with one or more of IDHS' six divisions: Developmental Disabilities, Early Childhood, Family and Community Services, Mental Health, Rehabilitation Services or Substance Use Prevention and Recovery.
The 2023 Illinois Human Services Capital Investment Grant Program recipients and their grant awards are as follows:
Chaddock Attachment and Trauma Services (Adams County) – $246,500
Bradley Street Day Care (Champaign County) – $93,908
Habitat for Humanity of Champaign County (Champaign County) – $130,635
Christian County Mental Health Association (Christian County) – $250,000
CCAR Industries (Coles County) – $249,500
Coles County Mental Health Association, Inc. (Coles County) – $249,000
Above and Beyond Family Recovery Center (Cook County) – $250,000
AHS Family Health Center (Cook County) – $250,000
Association House of Chicago (Cook County) – $250,000
U.I.L.D. Incorporated (Cook County) – $212,500
Band With Music Ltd (Cook County) – $207,021
Breakthrough Urban Ministries, Inc. (Cook County) – $249,700
Chicago House and Social Service Agency (Cook County) – $205,039
Community Alternatives Unlimited (Cook County) – $86,000
Covenant House Illinois INC. (Cook County) – $250,000
CTF Illinois (Cook County) – $62,820
Gateway to Learning (Cook County) – $250,000
Glenkirk (Cook County) – $127,928
Habilitative Systems, Inc. (Cook County) – $224,476
Hanul Family Alliance (Cook County) – $249,990
Heartland Alliance Health (Cook County) – $250,000
Howard Area Community Center (Cook County) – $95,696
Hyde Park Neighborhood Club (Cook County) – $250,000
Inner Voice Inc. (Cook County) – $126,507
Kenneth Young Center (Cook County) – $188,383
Lutheran Social Services of Illinois (Cook County) – $220,000
Shelter, Inc. (Cook County) – $241,450
Shore Community Services (Cook County) – $165,330
Southwood Interventions (Cook County) – $250,000
Coletta's of Illinois, Inc. (Cook County) – $225,000
Sabina Academy (Cook County) – $250,000
The Bridge Youth & Family Services (Cook County) – $90,000
The Chicago Lighthouse for People Who Are Blind or Visually Impaired (Cook County) – $249,200
The HANA Center (Cook County) – $249,889
United Cerebral Palsy Seguin of Greater Chicago (Cook County) – $250,000
Yana House (Cook County) – $250,000
YMCA of Metropolitan Chicago (Cook County) – $250,000
Barb City Manor, Inc. (DeKalb County) – $245,000
DuPage Pads (DuPage County) – $250,000
Serenity House Counseling Services, Inc. (DuPage County) – $250,000
Community Support Systems, Inc. (Effingham County) – $95,176
Braveheart Children's Advocacy Center (Henry County) – $176,141
Survivor Empowerment Center, Inc. (Jackson County) – $244,372
Horizon House of Illinois Valley, Inc (LaSalle County) – $71,409
Community Action Partnership of Lake County (Lake County) – $176,212
The Community Works, Inc. NFP (Lake County) – $250,000
Kreider Services, Inc. (Lee County) – $248,624
Residential Options, Inc. (Madison County) – $250,000
Centralia Community Youth Center (Marion County) – $249,999
Brown Bear Daycare & Learning Center (McHenry County) – $250,000
Home of the Sparrow, Inc. (McHenry County) – $161,000
New Directions Addiction Recovery Services (McHenry County) – $76,338
McLean County Center for Human Services (McLean County) – $245,000
YWCA of McLean County (McLean County) – $200,000
Human Service Center (Peoria County) – $234,656
Midwest Food Bank, NFP (Peoria County) – $87,380
The Salvation Army – Peoria Area Command (Peoria County) – $249,382
Willow Tree Missions (Piatt County) – $239,052
The Arc of the Quad Cities Area (Rock Island) – $220,258
Sojourn Shelter & Services, Inc. (Sangamon County) – $250,000
Tazewell County Resource Centers, Inc. (Tazewell County) – $250,000
Tazwood Mental Health Center, Inc. (Tazewell County) – $237,524
Cornerstone Services (Will County) – $230,000
Stepping Stones Inc. (Will County) – $240,000
Blackhawk Area Council, Boy Scouts of America (Winnebago County) – $148,000
Boys & Girls Club of Rockford (Winnebago County) – $246,458
Milestone, Inc. (Winnebago County) – $160,130
Regional Access & Mobilization Project (Winnebago County) – $204,209
Supported Housing Management Corporation (Winnebago County) – $99,631
Youth Services Network (Winnebago County) – $89,043