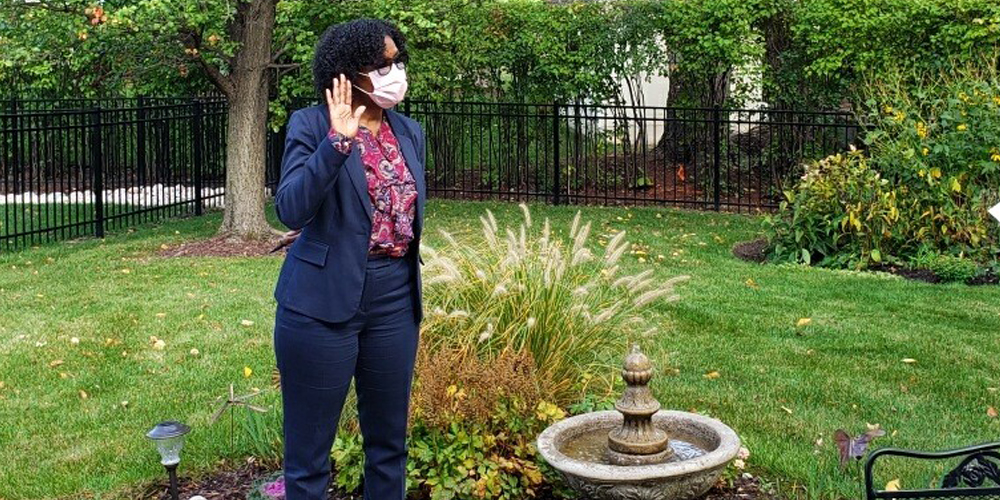 BUFFALO GROVE – Adriane Johnson, a lifelong servant and volunteer in the northern suburbs, was sworn in as the first Black state Senator to represent the 30th Legislative District Sunday.
"I'm truly honored and humbled by this entire experience," Johnson said "We have a lot of important issues to tackle this year, and I'm ready to serve the residents of the 30th District."
As the current commissioner of the Buffalo Grove Park District Board and the president of the Buffalo Grove-Lincolnshire Chamber of Commerce, Johnson had dedicated her life to serving the residents, small businesses and local parks of the northern suburbs. Prior to her current job, Johnson served as the president of the Buffalo Grove Park District.
Johnson is also currently the chair of the Illinois Association of Park Districts' Board of Trustees, a member of the Buffalo Grove Board of Fire and Police Commissioners, a member of the Rotary Club of Buffalo Grove, and a volunteer with the Taproot Foundation.
She received a Bachelor of Arts degree in Liberal Studies from Columbia College and a Master of Jurisprudence in Business Law from Loyola University Chicago School of Law. She lives with her husband, Bruce, in Buffalo Grove. The couple has an adult daughter who lives in Chicago.
Johnson, who is familiar with Springfield from her time working with IAPD, said she is excited to return to the Capitol this fall in a new capacity and fight for the needs of all Illinoisans.
The 30th Legislative District includes all or part of Waukegan, Buffalo Grove, Vernon Hills, Mundelein, North Chicago, Wheeling, Gurnee, Park City, Lincolnshire, Riverwood and Beach Park.