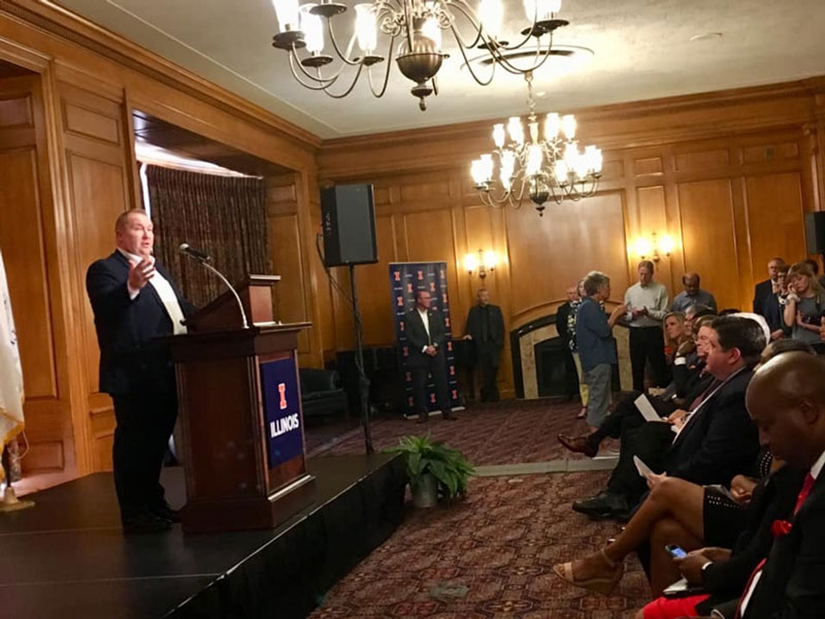 CHAMPAIGN – State Senator Scott Bennett (D-Champaign) joined Governor JB Pritzker at the University of Illinois' Urbana campus today to talk about the urgently needed improvements to facilities the governor recently signed into law.
Dubbed "Rebuild Illinois," the capital construction plan invests $2.9 billion to support Illinois' nine universities and 50 community colleges, in addition to the Illinois Mathematics and Science Academy.
"A lack of investment and a two-year budget impasse were devastating to our public university and community college system in Illinois," Bennett said, who sits on the Senate Higher Education Committee. "I'm glad to see that Gov. Pritzker is committed to making the University of Illinois and our state leaders in higher education."
The capital plan includes funding for long-overdue facilities maintenance and curricular programs for the University of Illinois, and funding for the Math, Statistics and Data Science Collaborative Facility and the Quantum Information Science and Technology Center at the Urbana-Champaign campus.
"I've always believed that higher education is the best and smartest investment that a state can make," Bennett said. "After years of cuts to higher education, we now have a promising plan to bring fiscal stability and certainty back to the University of Illinois."