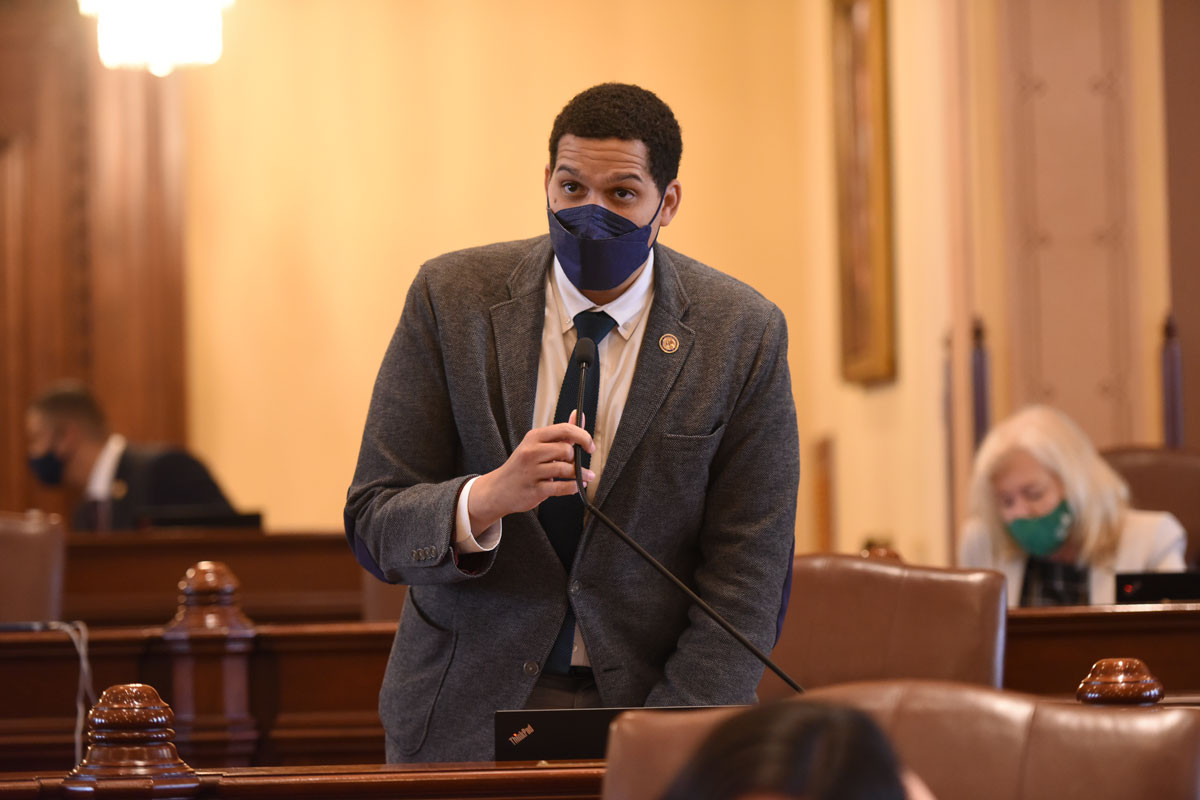 Measures signed include ban on lying to kids during interrogations
CHICAGO – During a ceremony at a Northwestern University campus in Chicago, four public safety and criminal justice reform measures sponsored by State Senator Robert Peters (D-Chicago) were signed by Gov. JB Pritzker and became law.
The ceremony was a culmination of several years of hard work from Peters and advocates to reimagine what safety and justice look like in Illinois.
Senate Bill 2122 makes statements provided by a minor inadmissible in court if they were made after a law enforcement official intentionally lied during the interrogation. Deception is defined as "knowingly providing false information about evidence or leniency."
"It is an unfortunately common practice for police officers to lie to kids in order to coerce them into saying what they want to hear," Peters said. "These are stressful and frightening situations for many kids, and a lot of the time the statements aren't truthful, but were still made because the kids thought it would get them out of the situation."
Senate Bill 2129 allows state's attorney to petition courts to reduce sentences of incarcerated people when they believe circumstances have changed significantly enough to warrant it. The decision is still left up to the court in question, which can take several different factors into account.
"When a sentence for a crime is initially determined, the judge or jury consider a lot of facts and details to make their decision, but over time those factors can and do change," Peters said. "State's attorneys should have the ability to use changed circumstances to request new sentences if they so choose."
Senate Bill 64 looks to boost the effectiveness of restorative justice by providing that anything said or done during the course of restorative justice, including the fact that it has occurred at all, cannot be used in civil, criminal or juvenile court proceedings unless the privilege is waived. Disclosure can still happen without consent if necessary to prevent injury, death, or further acts of crime.
"Restorative justice can't work if people are afraid to use it," Peters said. "These practices are an important and effective alternative for responding to crime, and if we don't work to shore up their effectiveness, then we're back to square one."
Restorative justice practices bring together adverse parties and community stakeholders to repair harm and prevent more trauma. The use of these practices are becoming more common in schools, communities, and courts, but fear of self-incrimination continues to stifle their effectiveness.
The governor also signed House Bill 3587 which creates the Resentencing Task Force to study innovative ways to reduce the state's prison population.
"Real safety and justice belongs to the people, and with these new laws, we're helping to return it to them," Peters said.
SB 64 and HB 3587 are effectively immediately, and SB 2122 and 2129 take effect Jan. 1, 2022.