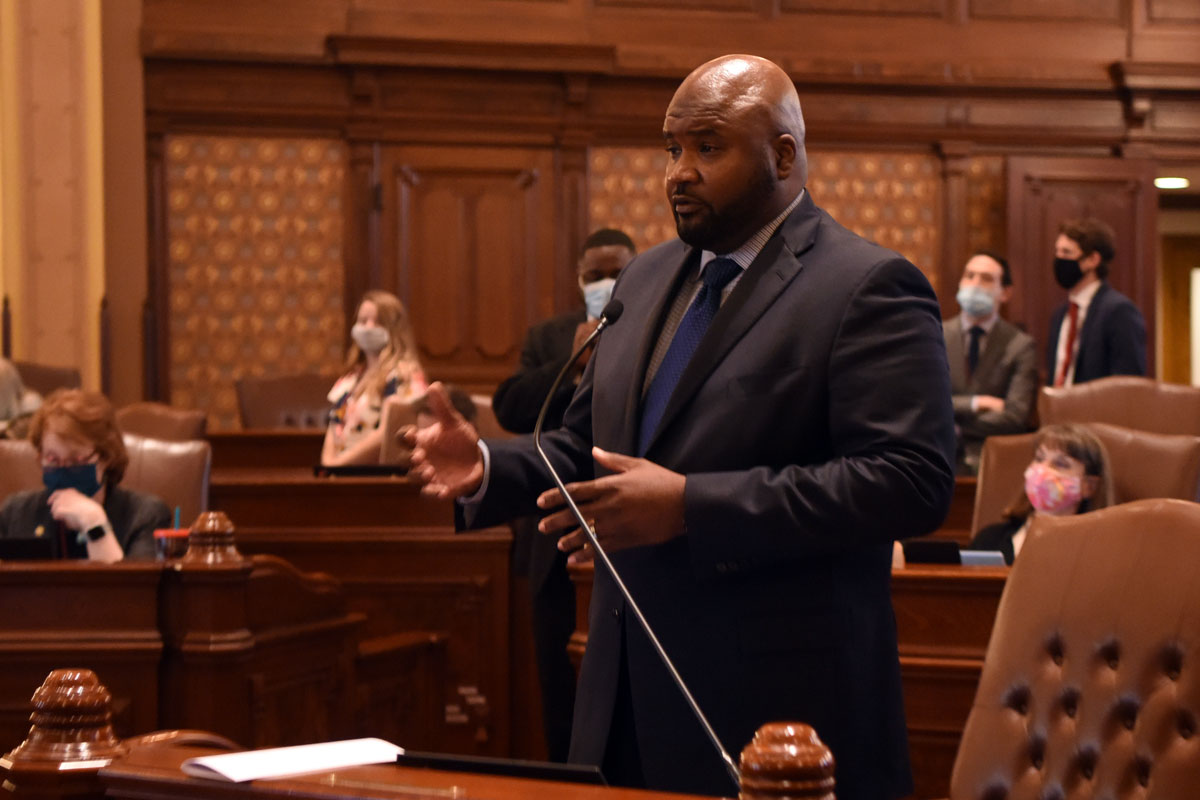 CHICAGO – As the state prepares to launch the new Back to Business (B2B) small business relief program, Senate Democrats called a joint hearing of the Illinois Senate Appropriations and Commerce Committees to give small business owners a platform to provide feedback and direction to program administrators.
"I am proud to lead Democratic efforts in the Senate to ensure needed dollars reach the communities hardest hit by the pandemic," said State Senator Elgie Sims (D-Chicago), who chairs the Senate Appropriations Committee. "The COVID-19 pandemic has led to a dramatic loss, but the losses our small businesses experienced have put a tremendous strain on growing local economies. I will remain committed to helping all small businesses build back better."
"Local businesses of all sizes and industries have faced various economic disruptions over the past year," said Suzy Glowiak Hilton (D-Western Springs), chair of the Senate Commerce Committee. "This hearing was a collaborative effort to encourage open conversation and provide the small business community an opportunity to address DCEO and their elected officials directly."
The B2B program, administered by the Illinois Department of Commerce and Economic Opportunity, is expected to distribute $250 million in economic relief to small businesses across the state to help offset losses related to the COVID-19 pandemic.
Leveraging relationships with regional partners established through the recently expanded community navigator outreach program, DCEO will conduct outreach locally for the B2B grant program and prioritize hardest-hit industries and communities.
"Small business owners have suffered unimaginable stress over the past year. State and federal grant programs offered them some relief, but funding didn't reach everyone who needed it," said State Senator Laura Murphy (D-Des Plaines), a member of both committees who was instrumental in planning the hearing. "We approached this hearing seeking answers and solutions for the businesses that felt left out in the cold."
At the hearing, lawmakers questioned representatives from DCEO, heard testimony from local and state business leaders, conveyed feedback from their local small business owners, and offered suggestions on how the B2B program could learn from the successes and shortfalls of previous relief programs like the Business Interruption Grant program to better serve the needs of the Illinois small business community.
"Over the course of the pandemic recovery, we've seen that some businesses and industries have made progress faster than others," said State Senator Bill Cunningham, a Democrat who represents portions of Chicago and the southwest suburbs, and who helped play a key role in negotiating Illinois' Fiscal Year 2022 budget. "We want to make sure that the Back to Business program is positioned to reach the industries that need the most help before it launches."
Applications for the B2B program open Wednesday, Aug. 18, 2021. More information, eligibility requirements and applications are available on DCEO's website at Illinois.gov/DCEO.