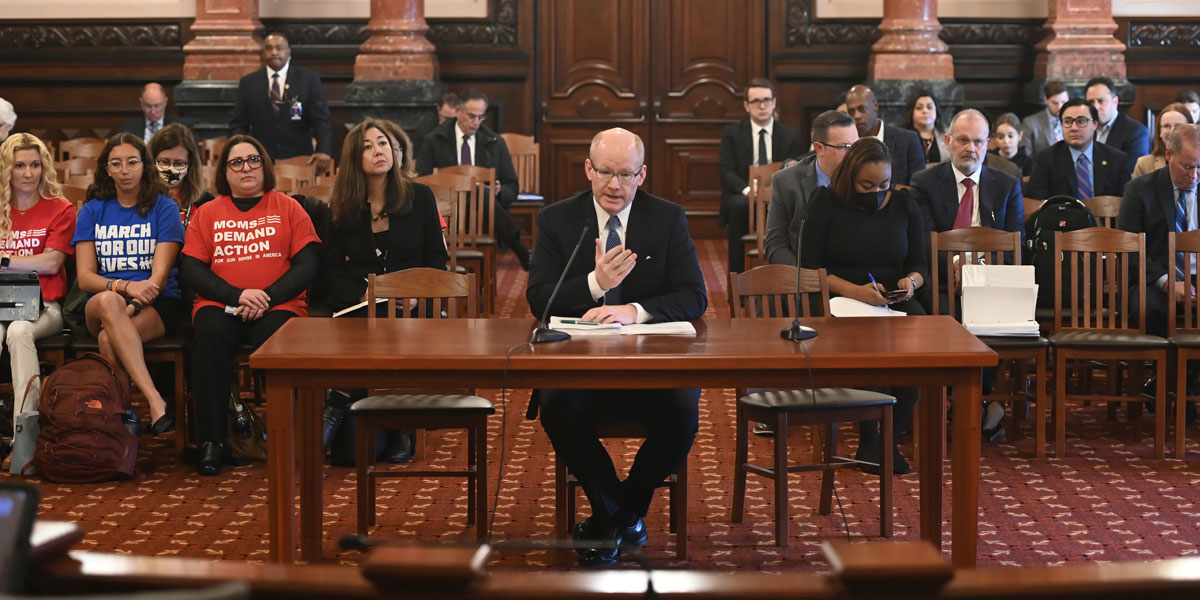 SPRINGFIELD – The Illinois Senate Democratic Caucus passed historic legislation today that bans the sale and manufacturing of assault weapons and high-capacity magazines.
"After continued negotiations between the leaders, stakeholders and advocates, we have reached a deal on one of the strongest assault weapons bans in the country," said Senate President Don Harmon (D-Oak Park). "Gun violence is an epidemic that is plaguing every corner of this state and the people of Illinois are demanding substantive action. With this legislation we are delivering on the promises Democrats have made and, together, we are making Illinois' gun laws a model for the nation."
House Bill 5471 bans assault weapons and high-capacity magazines from being manufactured or sold in Illinois. The comprehensive gun safety package also places a ban on rapid-fire devices intended to make semiautomatic firearms fully automatic, and increases the duration of a Firearm Restraining Order from six months to up to one year. A Firearm Restraining Order allows the family of a gun owner or law enforcement to obtain a civil order temporarily removing the firearm and ammunition from people who pose a risk of harm to themselves or others.
The legislation builds on years of preventative measures to curb gun violence passed by the caucus. In recent years, Senate Democrats have passed commonsense gun safety laws requiring universal background checks at point of sale and transfer, streamlining FOID registration, strengthening "red flag" laws and increasing awareness of safe gun storage for gun owners and youth.
"All communities deserve to live free from gun violence," said Villivalam (D-Chicago). "This measure upholds our commitment to building true public safety for all, and will undoubtedly reduce the ways dangerous people can obtain weapons of war."
"Military-style weapons, designed for war and not for sport, have no use on our streets and in our neighborhoods," said State Senator Julie Morrison (D-Lake Forest). "At a time of continued inaction in Washington, it is imperative we step up as a state to regulate assault weapons before more lives are lost."
"We have lost too many lives to gun violence and we must take proactive action to end this epidemic," said Gillespie (D-Arlington Heights). "Assault weapons are the weapons of choice for mass shooters, and they are too readily available for them to inflict acts of terror on innocent people. By banning the sale and distribution of these weapons in our state, we join eight other states in taking this preventative action. It's time for Congress to follow the trend and take action nationwide."
"Our state holds a great responsibility to protect people from the continued act of gun violence caused by assault weapons," said Johnson (D-Buffalo Grove). "I'm glad as a state we finally said 'enough is enough' and fought diligently to get these weapons of war off our streets."
"The tragedy of the Highland Park shooting will always be with me," said State Senator Laura Fine (D-Glenview). "It is long past time that we act and ban assault weapons so no other communities will have to experience this trauma."
House Bill 5471 passed the Illinois Senate and awaits further consideration in the Illinois House.
###