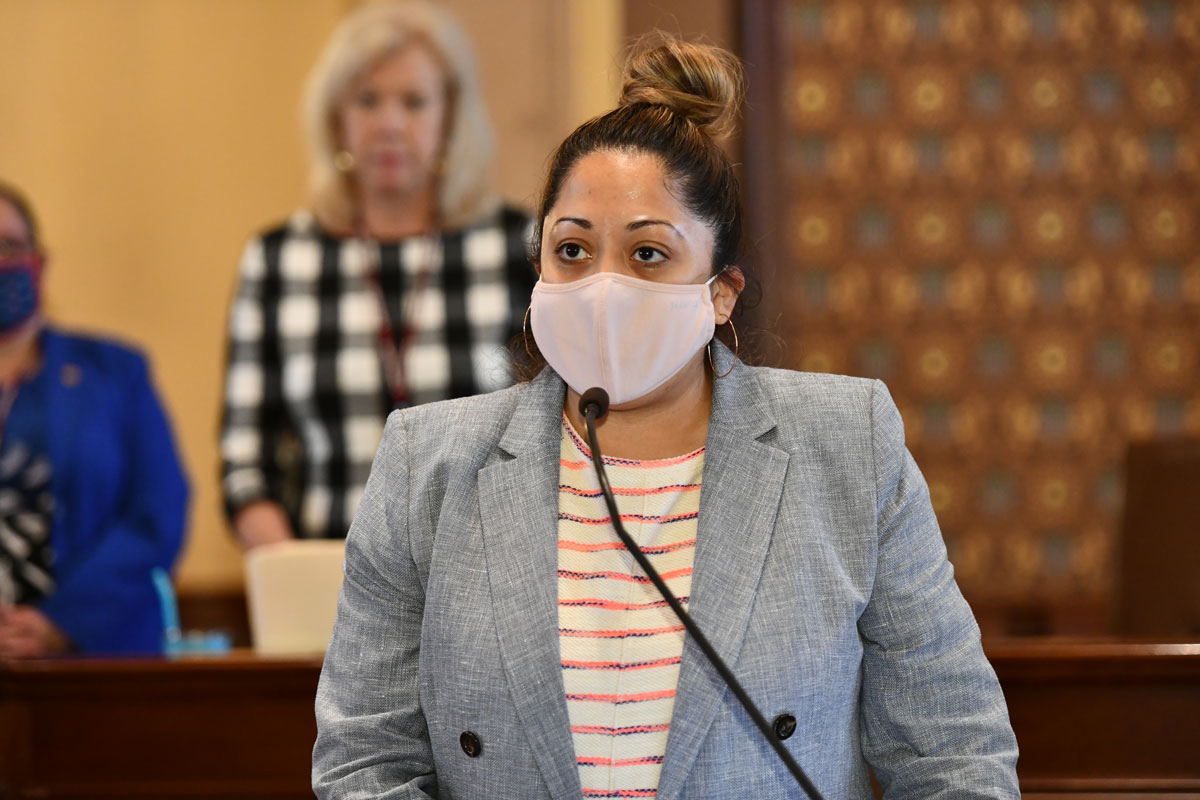 SPRINGFIELD – To uphold the rights of working people, State Senator Celina Villanueva (D-Chicago) voted in favor of a Constitutional amendment that would ban "Right to Work" legislation in Illinois.
"Right to Work laws serve to dismantle the labor movement and don't offer working families better wages or conditions," Villanueva said. "As a former union steward, I proudly support this amendment."
The amendment would provide that no law passed may prohibit the ability of workers to collectively bargain over wages, hours, terms and conditions of work. The measure would effectively ban "Right to Work" laws in Illinois, which prohibit union security agreements in which an employer and a labor union agree on the extent to which employees are compelled to join the union and pay union dues.
Non-members in a collective bargaining unit still receive the benefits of collective bargaining agreements, including the higher wages and benefits that unions earn through the bargaining process. "Right to Work" laws effectively serve to increase the non-member proportion of the labor force, reducing the bargaining power of the collective.
Senate Joint Resolution Constitutional Amendment 11 passed the Illinois Senate and awaits consideration in the Illinois House.
Villanueva apoya prohibir las leyes "Right to Work"
SPRINGFIELD – Para proteger los derechos de la clase trabajadora, la Senadora estatal Celina Villanueva (D-Chicago) votó a favor de una enmienda constitucional que prohibiría la legislación "Right to Work" (que permite que los trabajadores decidan contar o no con la protección de los sindicatos) en Illinois.
"Las leyes 'Right to Work' sirven para desmantelar el movimiento laboral y no ofrecen a las familias de clase trabajadora mejores condiciones salariales," dijo Villanueva. "Como ex administradora sindical, apoyo con orgullo esta enmienda."
El cambio constitucional estipularía que ninguna ley pueda prohibir la posibilidad de que los trabajadores negocien colectivamente sobre sus salarios, horas, términos y condiciones laborales. La medida prohibiría de facto las leyes "Right to Work" en Illinois, que prohíben los tratos en que un empleador y un sindicato acuerdan las condiciones en que los empleados puedan enrolarse en un sindicato y pagar las contribuciones correspondientes.
Quienes no son miembros de una unidad de negociación colectiva seguirán recibiendo los beneficios de los acuerdos en acuerdos colectivos, incluyendo ingresos más altos y otros beneficios que los sindicatos obtengan en las negociaciones. Las leyes "Right to Work" sirven para incrementar la fuerza laboral que decide no ser miembro, reduciendo la capacidad de negociación colectiva.
La Resolución de la Enmienda Constitucional 11 del Senado fue aprobada en el Senado de Illinois y espera ser considerada por la Cámara de Representantes.