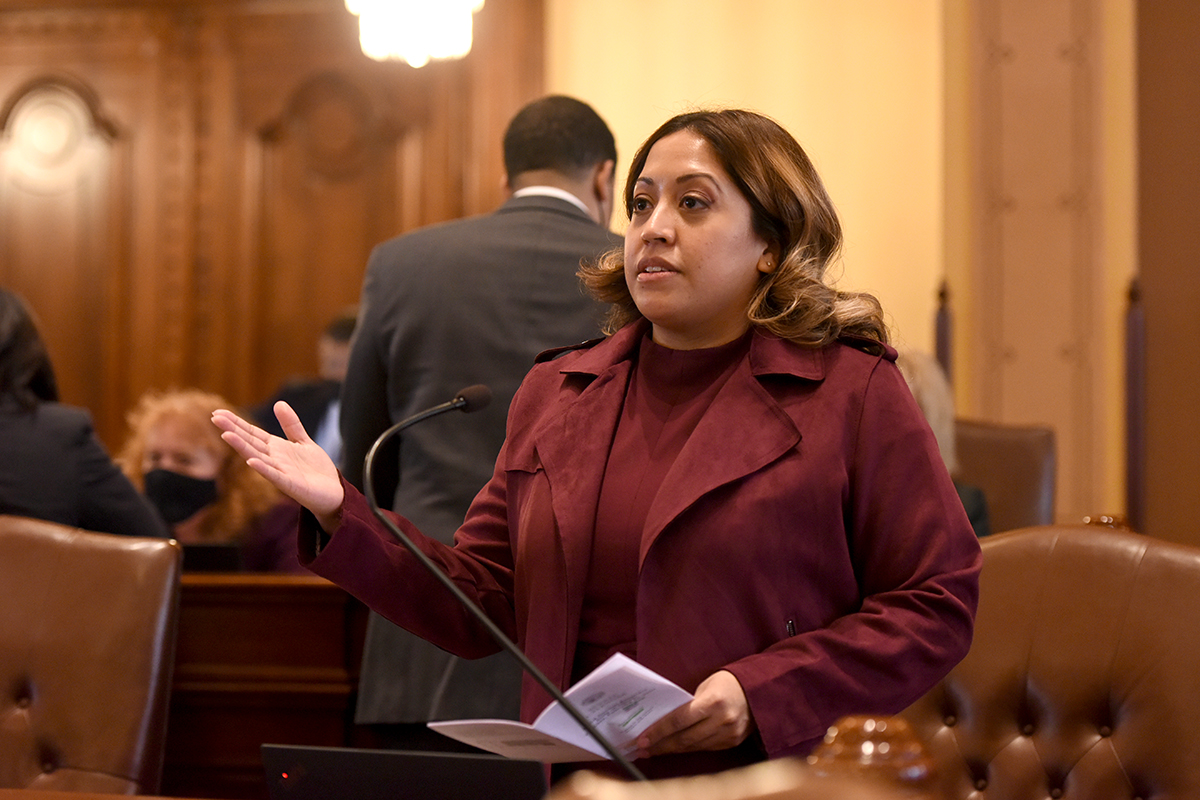 SPRINGFIELD – State Senator Celina Villanueva (D-Chicago) is sponsoring a measure expanding women's access to healthy pregnancies by requiring insurance companies to cover prenatal vitamins.
"Having access to prenatal vitamins is equally as important as having access to breast feeding supplies," said Villanueva. "These measures both prioritize the health and safety of mothers and their babies by reducing the economic barriers preventing them from doing what's best for their well-being."
House Bill 4338 requires insurance policies that already cover prescription drugs to also cover prenatal vitamins when prescribed by a licensed physician. Coverage for prenatal vitamins will allow policyholders to obtain vital supplements that endorse healthy and sustained pregnancy. While most nutrients supporting healthy pregnancy can come from foods, prenatal vitamins provide additional opportunities to foster fetal growth and development. In addition to this measure, Villanueva is sponsoring Senate Bill 3634, which exempts breast feeding supplies from sales tax.
"Women deserve every opportunity to promote their baby's wellness at all stages of their pregnancy," said Villanueva. "Making these opportunities affordable lets Illinois mothers know we have their backs before, during and after their tremendous childbirth journey."
HB 4338 passed the Senate Insurance Committee Wednesday and now goes to be considered by the full Senate.
---
Villanueva impulsa lograr la cobertura de vitaminas prenatales
SPRINGFIELD – La Senadora Estatal Celina Villanueva (D-Chicago) patrocina una medida que amplía el acceso a embarazos sanos al requerir que las compañías aseguradoras cubran las vitaminas prenatales.
"Tener acceso a las vitaminas prenatales es igualmente importante que tener acceso a los accesorios para amamantar a los bebés," dijo Villanueva. "Esta medida da prioridad a la salud y seguridad de las madres y de sus bebés al reducir las barreras económicas que les impide hacer lo más conveniente para su bienestar."
La iniciativa de la Cámara de Representantes HB 4338 requiere que las pólizas de seguros que cubren los medicamentos prescritos también incluyan las vitaminas prenatales solicitadas por un médico autorizado. La cobertura de las vitaminas prenatales permitirá que quienes cuentan con una póliza de seguro obtengan suplementos vitales que apoyan un embarazo sano y sostenible. Si bien la mayoría de los nutrientes que apoyan un embarazo saludable provienen de la comida, las vitaminas prenatales ofrecen oportunidades adicionales que procuran el crecimiento y desarrollo fetal. Adicionalmente a esta medida, Villanueva patrocina la iniciativa del Senado SB 3634 que exenta del impuesto al consumo a los artículos utilizados para amamantar a un bebé.
"Las mujeres merecen todas las oportunidades que promueven el bienestar de sus bebés en todas las etapas del embarazo," dijo Villanueva. "Al hacer asequibles estas oportunidades, las madres de Illinois sabrán que cuentan con nuestro respaldo antes, durante y después de su increíble jornada que culmina con el nacimiento de sus bebés."
La iniciativa HB 4338 fue aprobada en el Comité de Seguros del Senado el miércoles y será enviada para su consideración ante el pleno del Senado.